Who is your favorite new-to-you author so far this year??
Wow. What a hard question. I would most likely have to say James Patterson. I have read almost all of his Maximum Ride novels and loved everyone of them. He is an amazing author. However there are a whole list of authors that I love also!
I cant wait to see what all your answers are. If you are interested in doing this hop then click the Crazy For Books link above!
Photo Roulette Friday Rules:
- Please be random! It's really OK to post a not-so-wonderful photo.
- You are more than welcome to edit your photo if you wish.
- Please include my button in your post, so people can find this bloghop and link up.
- You have until Tuesday night to enter.
Here is my entry:
Well here is my cat that we had to disect in Anatomy. I know it might be gross, but we had to choose the 10th folder, 8th picture so this is what I got.
This is a fun new meme I hope you all join!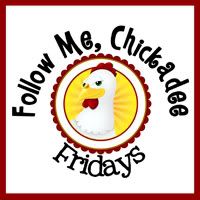 All we ask is that you follow a few simple guidelines:
Add a main link to your blog each week (Linky will open every Thursday night at 11 p.m. EST and close at 12:01 a.m. on Saturday mornings EST).
Follow the first three blogs in the # 1, 2, 3 spots.
Visit the blog above and below your listing and leave a *meaningful* comment. Something nice and shiney to make them smile. But make sure to tell them that you found them from Follow Me, Chickadee!
You don't have to follow every blog that follows you...but make sure that you follow the blogs that really interest you!
If you want to put the blog hop code or the Chickadee button on your Friday post on your blog, we welcome it!
Family friendly sites ONLY. The linky list will be monitored and anything not family friendly *will* be deleted. We don't want to see random naughty bits or something that would make our families cringe.
And the most important guideline? HAVE FUN! Make new friends, but keep the old...one is silver and the other's...ack, Girl Scouts memories shining through. Oh, and have a Happy Friday!