Sew Cute by Designs has generously donated an:
Here are a few examples:
Giveaway ends the day after my birthday - 11/14
USA/Canada ONLY
To Enter:
- Leave a comment about anything on this post.
- Leave an EMAIL for contact! (if you don't feel comfortable leaving it here, email me at ashleysbookshelf@gmail.com)
Must be a FOLLOWER!
Extra Entries:
+5
Networked Blogs Follower
+5
add my birthday button on your blog
+3
Follow me on Twitter (
@ashleybookshelf
)
+3
Visit
Sew Cute by Designs
and tell me something you like!
+2
Be my friend on
Facebook
+2
Be my friend on
Goodreads
+2
for every $1 you donate for shipping (button at top sidebar)
+1
Add all your entries! (including this one!)
Make sure to leave links and usernames!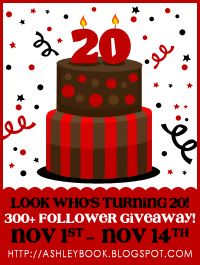 For every +50 followers that I receive I will add more giveaways!
**Please help spread the word. It won't get you extra entries but it is extremely appreciated**