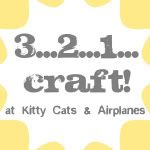 I have decided to participate in the 3…2…1… craft! hosted by Kitty Cats and Airplanes. Below is my first entry! I would love to know what you all think. These are going on sale in my Etsy store tonight for $28. I can personalize them with your choosing.
The set includes a burp cloth, a short sleeved onesie, a long sleeved onesie, and two hairbows. This set is completely customizable. You can choose color, theme, and the items that you would like to include, such as, for a boy I can include two washcloths instead of the bows or something else of your choosing. The possibilities are endless.
I also wanted to share with you all where I received the wicked fabric from.
Blog, Website, Store, Facebook, Twitter
The Intrepid Thread was gracious enough to send me the following set!
The set included:
1/4 yard each of:
Boy Main in blue
Boy Main White
Boy Squared in Blue
Boy Squared White
Girl Main in Pink
Girl Main White
Girl Squared in Pink
Girl Squared White
Blue Argyle
Orange Argyle
Green Argyle
Blue Circles
Gray Circles
Green Circles
Red Circles
Green Beads
Red Beads
Blue Beads
Gray Floral
White Floral
Pink Floral
Solid White
= 5 1/2 yds total
I was completely thrilled when I received this fabric (Alphabet Soup Boy and Girl Collection by Zoe Pearn for Riley Blake) and I wanted to get creative ASAP, but of course work got in the way and I had to put my creative mind in the back seat for awhile.
I have a friend who is due any time now and I thought what better way to use this fabric than with a gift for her little one that she plans on naming: Natalie. Thus the gift set was born using the pink fabric with flowers. I made the whole set – two onesies, burp cloth, and two hairbows with only one fat quarter, and plus I had some left over!
This fabric is genuinely beautiful and I plan to purchase more in the future. Intrepid Thread was great in answering my questions and quick in shipping the products. No doubt they are the #1 fabric seller that I know on Etsy :]
I hope you all decide to check out Intrepid Thread and if you do tell them Ashley Suzanne sent you!
Happy Crafting!
-A