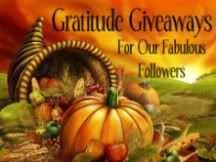 Wednesday, November 17th to Sunday, November 28th.
There are over 175 blogs participating! Here is what I have to give my faithful followers!
Winner #1 will receive...
A small Picture the Dead tshirt and V is for Vampire book courtesy if Adele Griffin, and a sample of Bright Young Things donated by me!
Winner #2 will receive...
All this posted above! A lot of the swag is signed!!
RULES
- Giveaway is US only
[Unless international would be willing to pay shipping or 1/2 of shipping. Sorry I'm broke :(]
- Must be a follower! New or Old!

How To Enter:
- Comment needs to include where you follow me and email!
[If uncomfortable leaving email the email me at ashleysbookshelf[at]gmail[dot]com]

EXTRA ENTRY

- +4 points if you donate at least $1 to my site [for shipping, giveaways, etc.]
Make sure to leave 4 additional entries!!

Enter your amount below!


Thanks to all my wonderful followers!
I can't believe that I have this many since May of 2010!!!